Today we are partnering with Kim of 
Kim Baker Beauty
to share with you some of her favorite tips when planning the beauty aspect of an engagement session! Have an engagement session coming up that you are photographing? Feel free to shoot your clients this link and they can take these important pieces of advise into consideration with their planning!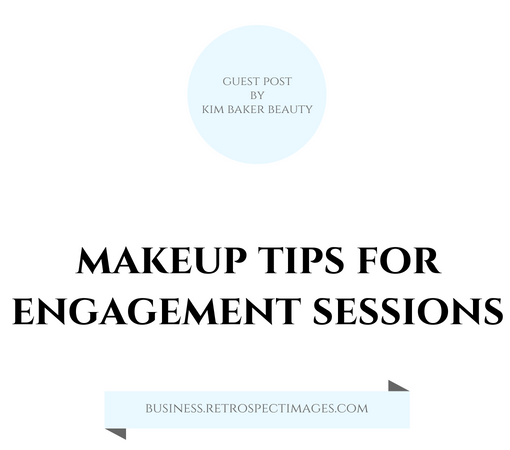 Congratulations! You're engaged to the love of your life! This is such an exciting time for you and your family. A time to remember and document.
When I was planning my own wedding, choosing a photographer was first on my to do. I wanted one person to document the entire process in order to provide continuity in the photos and help create a trusting and fun relationship.
Next to do was planning our engagement shoot. Surprisingly enough, this was not the easiest task for me. Fortunatly, my bestie is a clothing stylist and I was able to heavily lean on her for styling help. She recently shared her styling tips for engagement photos here. (https://www.kimbakerbeauty.com/blog/2018/4/25/how-to-pick-an-outfit-for-engagement-photos-westerly-style)
Engagement shoot to do:
Photographer (check)
Attire (check)
Location (check)
Hair and makeup …. (!!!)
Your engagement photos, just as your wedding photos, last a life time and are the first contact your guests will have to your wedding. Most couples will use images from this shoot on their announcements, on their website, and in their home.
Bottom line, you want to look your best!
I've put together a few recommendations to help you do so. Men- many of these tips go for you as well!
(At least) 1 Month Out:
Increase your water intake and eat clean. Avoid sugar and salt, while eating lots of veggies. This will help your hair and skin to look its best from the inside out! It's not just about what we put on our bodies, but so much about what goes in them. Sugar wreaks havoc on many of our systems including hormones, especially for women, which can cause redness in the skin. Salt makes you retain water, resulting in bloating. When you have a diet high in water and vegetables, you will not only look great, but feel amazing. Feeling good shows up clear as day in photos. However, don't completely torture yourself, we don't want starving, miserable models! No soy sauce drenched cotton balls for you! Also, asparagus is an incredible diuretic. It naturally flushes our toxins. The week before our wedding, my wife and I ate so much asparagus!
This is also a good time to pay more attention to your skin care routine. The basics of this is to cleanse (am/pm), hydrate (am/pm), protect with SPF (am), and exfoliate (3x/week). Here (https://www.kimbakerbeauty.com/blog/2017/9/21/the-foundation-is-skin) I provide you with my favorite basic skin care. But if you're looking to do a little bit more, look no further, here (https://www.kimbakerbeauty.com/blog/2017/10/11/gimme-gimme-more) are my recommendations for a full beauty routine.
MEN! Please do yourself a favor and get on the skin care train. You will love the way your skin looks and feels too. It's not just a "girl thing"- your skin is made of the same stuff mine is.
If you suffer from stubborn blackheads like I do, I love using the Glamglow Supermud Clearing treatment. (https://www.glamglow.com/product/15132/39399/shop-treatments/supermud-clearing-treatment) Apply a thin layer over the affected areas after washing your face. Once the mask is completely dry, you will see dark spots start to form. This is the mask pulling excess oil, dirt, and bacteria from your pores that cause breakouts. Rinse with warm water and gently remove the mask with a damp towel. Your skin may be red, apply your moisturizer and avoid sunlight. I like to apply this mask at night when I know I won't be in the sun for a while.
Bonus: the sun is the biggest aging factor. It causes discoloration and wrinkles. Yuck! Try to be diligent with sunblock by applying daily and reapplying every 2 hours when in the sun. I also always suggest a large hat for increased protection. SPF30 is plenty and will still allow some lovely vitamin D into your system.
Now for my favorite part: hair and makeup!
Often, engagement shoots can be long, in the sun, and include a lot of snuggling. Therefore, we want to avoid makeup transfer.
1.
Healthy clean skin holds makeup better and longer with a much prettier finish. Give your skin at least 10 minutes to absorb your skin care before applying makeup.
2.
I love using the Urban Decay setting spray (https://www.urbandecay.com/setting-spray) BEFORE and after applying makeup! It really helps makeup last and keeps your skin cool on hot days. Only use their oily option, De-slick, is you are really, really, REALLY oily. I find that it can mattify the skin a little too much and I rarely ever use it on any clients.
3.
Find a foundation that will last through all weather. I personally love the Dior Airflash (https://www.dior.com/beauty/en_us/fragrance-beauty/makeup/face/foundation/pr-fdtothers-y0769700_f076970300-spray-foundation.html?gclid=Cj0KCQjwnqzWBRC_ARIsABSMVTPmhK20iXtiKmKcbCVHoEo5u5iKMG7y-fZKYaxPVBNc3hd5Y0cFvicaAnrQEALw_wcB). It has a beautiful velvety, skin-like finish and stays on through sweat and tears. I always suggest getting matched at a Dior counter as supposed to in Sephora as the Dior employees are specifically trained and the lighting in many Sephora stores is less than ideal.
4.
Prime your eyes, especially if you have oily or sweaty lids. I love the Urban Decay Eyeshadow Primer Potion in Eden. (https://www.urbandecay.com/eyeshadow-primer-potion/UD515.html?cgid=1_503#start=3&cgid=1_503) It has a yellow undertone and will cancel out any redness to provide a perfect canvas for any eyeshadow. A little goes a long way. Allow to dry before applying eyeshadow.
5.
Eyeliner. Oofa! One of the trickiest aspects to makeup. If you tend to get watery eyes or sweat a lot, eyeliner can be your nemesis! I love using Stila Stay All Day Waterproof Liquid Eyeliner. (https://www.sephora.com/product/stay-all-day-waterproof-liquid-eye-liner-P253818?SKUID=1221084&om_mmc=ppc-GG_1165716902_53825946220_aud-376785856971:pla-419047908614_1221084_257731950452_9032180_c&country_switch=us&lang=en&gclid=CJmNzqbardoCFcEjfgod-_kPIQ&gclsrc=ds) Now, I know what you are thinking, liquid is super scary. And while you're not wrong, here are some tricks of the trade: make sure you are sitting securely, get close to the mirror, and make slow short lines against your lashes until you like the shape you've made. Liquid eyeliner is not a race and should never be done in a rush- EVER! I personally love the look of a super thin black line tight along the lashes. It makes your lashes look super thick without being the star of the show.
6.
False lashes if you dare! My favorite trick is to use Ardel short individual lashes to fill in sparse areas. First, I apply Dior Lash Maximizer (https://www.sephora.com/product/diorshow-maximizer-3d-triple-volume-plumping-lash-primer-P408966) lash primer to help create full, long lashes. Next, I apply the falsies. Take your time. Using tweezer, gently pull the lash off the container, dip the knotted end into Duo lash glue (https://www.sephora.com/product/eyelash-adhesive-P266812) to where it is covering the knot but not dripping off the lash, allow 30 seconds to get tacky, place the lash on your lashes up against your eyelid- it should not be directly on your lid. Apply as many or as few as you want. When the glue and lash primer are both clear, they are dry and you can apply mascara. I personally and professionally use the Buxom Lash Waterproof Mascara. (https://www.sephora.com/product/buxom-lash-waterproof-mascara-P374159) The wand and formula create separated, full, long lashes.
7.
Powder. Only ever powder lightly where you tend to get oily. Powder can create the "cakey" look on your face. Powder is used to keep oil at bay. Often, I don't even use powder at all. If the skin care and primer is used appropriately, powder is not necessary. This is all very individualized.
If this is all very overwhelming to you. Hire a professional. Your engagement photos are the perfect excuse to try out and get to know an artist. However, contrary to popular belief, this is not the ideal time for your trial. Bottom line, you don't want to look identical in your engagement photos and at your wedding. They are different events your looks should reflect this.
Hair. There are so many options. I like to choose my attire first before choosing a hair styling. Depending on your neckline, you may choose to leave your hair down, pull some back, or have it completely up. If you choose to hire a makeup artist, ask if they do hair too! While a makeup artist may not advertise bridal hair styling, often times they will provide single styling for a photoshoot only. While makeup is my strength, I love the opportunity to do hair for an engagement shoot!
Whew! That was a lot of information! I hope you've been able to take away at least one gold nugget. If you have any further questions, please do not hesitate to reach out! I love helping people find their perfect skin care or makeup routines and chat health and weddings. My blog is full of experiences and advice from myself and guest bloggers, and my Instagram has endless inspirational photos.
I am so excited for you in this journey! Congratulations again and don't forget to enjoy this special time in your life!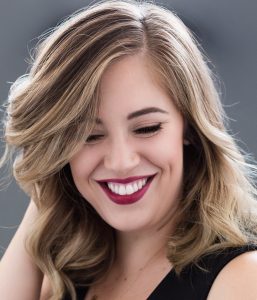 www.instagram.com/kimbakerbeauty