One thing is for sure… wedding days – no matter how simple or small the wedding may be – are always a little chaotic for a photographer! There is so much to manage – from not missing a moment, to working within the timeline, to keeping track of all of the vendors you should be sharing photos with, to ensuring that you have noted all of the special preferences your clients have, there never seems to be an end to the details of the day!
One thing I have found helps to set myself up for success is to gather the final details of the day all in one place by means of a client final questionnaire. Here is where I ask for preferences or special notes, request the list of family groupings for family portraits, identify important details such as preparation addresses, timeline notes, and other important details that need ot be collected at the end of the planning process.
It also helps me to identify if there are any red flags with a wedding day that I need to address with the client BEFORE the big day– such as whether or not they need last minute recommendations in any area to have a successful day photographically (it should be noted- that this questionnaire comes about a month after I have already sent them my PDF timeline planning guide, which you can download for free  HERE).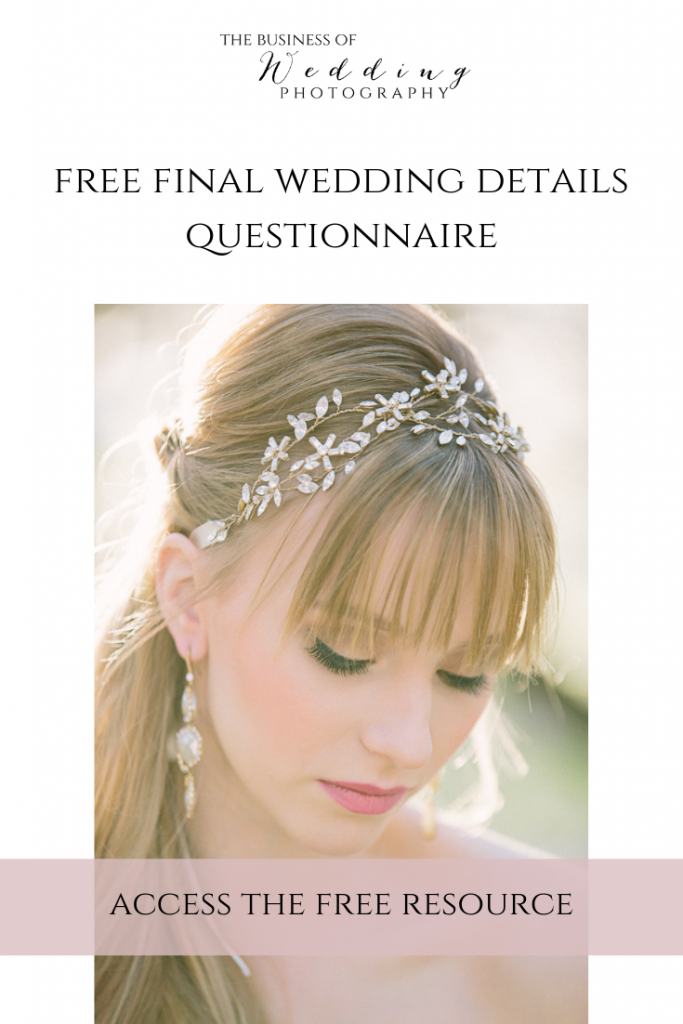 Want to snag my questionnaire for yourself? Start sending this out to your clients about 2 weeks before the big day to gather and plan final details with them and start having smoother days! AND…. it will help with your post production while you write blog posts and send out images to vendors since they will all be compiled in one place!

Head on over to the free resource library and check it out!

And while you're at it… have you enrolled in my FREE WEBINAR?